(Last Updated On: July 8, 2019)
The countdown to our holiday is officially on and all that has been on my mind is packing, packing and any other thing related to packing that one can think of. Admittedly, it is something I procrastinate with. I've never been one to see a point with packing way in advance because… what about all the clothes and things we want to wear and use in the meantime? I'm definitely a start-packing-a-week-before person.
One thing I'm definitely not looking forward to with our trip is the 8 hour long plane ride. 8 hours with two squirmy kids who seem perpetually wide-awake all the time (these kids have weaned off their afternoon naps since they hit the age of 2). 8 hours, myself squirming within the confines of a seat, with my husband who is twice my size barging into my limited sacred space. And of course, there's the looking like you just crawled out of bed afterwards!
If looking like you just crawled out of bed bothers you as it does me (especially because it makes me feel ill-equipped and too sleepy to handle all the impending hectic customs, kids, luggage stuff to come), here are some tips for what to pack for a beauty perk-me-up!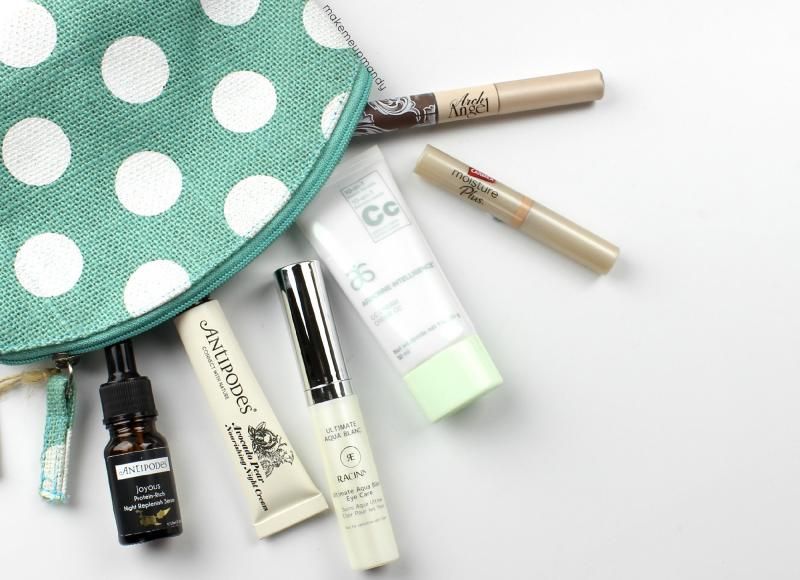 Antipodes Joyous Protein-Rich Night Replenish Serum*
This is one goodness-filled mini that I have been raving about recently and will have to come back for a full review post soon. I am not crazy about oils but this has me on the verge of conversion! I love its really lightweight, non-oily formula and it leaves in its wake an immediate glow. Such a cute and convenient mini too.
Antipodes Avocado Pear Nourishing Night Cream*
Boasting the superior restorative qualities of 100% pure avocado oil, this night cream is gentle, smells beautiful and really helps to moisture. God knows we need as much hydration as we can on flights. It contains Active manuka honey to soothe and moisten and uses potent antioxidant Vinanza Grape to help neutralise free radical damage. All in a convenient mini tube that is perfect for travel.
Raccine Ultimate Aqua Blanc Eye Care
This is a full sized product but packaged in such a nifty, sleek pump. I get bad eye bags when I don't get a good sleep and planes don't really offer those (not with above-mentioned squirmy kids and twice-my-size husband surrounding me). I was looking for a good eye cream and this Raccine one is perfect. Plus no annoying, hard-to-handle jar forms to deal with. It uses Pulsatilla Koreana essence for a brightening effect and helps to moisturise the eye area while reducing the appearance of dark circles. The effect it gives is instant and my eye area always feels firmer (away with them eye bags) and brighter.
Arbonne Intelligence CC Cream
I don't bother with any make up on the plane but a good base is an easy way to look good without the fuss of a full face make up. I go for CC Creams as they are just easy  to spread and blend with my fingers plus they have all the added goodness that foundations don't have. This Arbonne one is a 10-in-1 CC Cream that also acts as a primer (even and smooth base), protector of the skin's moisture barrier, concealer (it gives pretty good coverage under my eyes and for redness around my nose for a CC Cream), hydrator, mattifier (minimizes shine), brightener, blemish cover, pore refiner, comforter that feels soothing to the skin and complexion controller. Sounds impressive? It is.
Carmex Moisture Plus in Peach Tint*
For a easy fuss-free pop of colour on the lips. As usual, I reach for my Carmex. I'm a great fan of the tingly tingly tingle you get and I love the beautiful tint it gives. Plus there's SPF 15, Vitamin E and Aloe to look after your pout.
MeMeMe Arch Angel
I have mentioned before that nice brows are my must-haves! I really see a big difference in having nice, neat brows compared to bushy/sparse/untamed brows. This MeMeMe Arch Angel is perfect for traveling. It's an award-winning 2-in-1 dual-ended super weapon with a gel definer on one side and gorgeous creamy highlighter (for highlighting along the brow bone and the inner corners of the eyes) on the other end. It's easy to use, fuss-free (I use this word a lot) and very affordable.
These are my picks for beauty essentials that are convenient, easy to take along and do the job well.
What are your beauty essentials to pack for a flight?
Products have been provided for editorial consideration according to my Disclosure Policy. Opinions are 100% genuine and uninfluenced. * indicates Affiliate links.